The President of the Republic of Serbia, Aleksandar Vučić, met today with the Prime Minister of the Republic of Hungary, Viktor Orbán, who was in Belgrade as part of a one-day working visit.
President Vučić thanked the high guest for his personal commitment to the exceptionally good relations between Serbia and Hungary, as well as for his full contribution to stabilization in the region. In his address after the meeting, President Vučić pointed out that the Hungarian government and Prime Minister Viktor Orbán are true friends of Serbia, who openly support Serbia's European path, even when they suffer criticism for it, and that relations between Serbia and Hungary are currently the best in our modern history.
"In the future, we will try not only to maintain such good relations between the two countries and the two peoples, but also to raise those relations to an even higher level", said President Vučić, adding that Hungary also has a sincere friend and a reliable partner in Serbia.
The President emphasized that Hungary was on the 13th place of Serbia's economic partners, and that, in a short time, it reached the fifth place, and that cooperation with that country is rapidly developing both politically and economically.
President Vučić assessed that it was Prime Minister Orbán who was largely responsible for such a development of overall bilateral relations, which enabled not only the development of good neighborly partnership, but also economic progress.
"In 2020, we had almost two billion euros of trade exchange, and in the first five months of this year, that was additionally increased by 23 percent. We have more and more companies importing and exporting goods. Special thanks to Orbán because Hungarian companies made 16 large investments last year. Three of them are on the territory of northern Serbia, i.e. Vojvodina, and 13 are south of the Sava and the Danube. This speaks of the friendship with the whole of Serbia, and it goes without saying that Serbia will always help Hungarians living in its territory", said President Vučić, adding that Serbs today have extremely good relations with Hungarians in Vojvodina, which are based on mutual respect and trust. President Vučić also reminded of the project of modernization of the Belgrade-Budapest railway, as well as the reconstruction of the railway between Subotica and Szeged, which is especially important for the people who live in one country and work or study in the other.
"We also connected gas pipelines and we are proud of that. That is a historical success of the two countries ... We covered all topics. We believe in the European future and further assistance of Hungary on that path, as well as the member countries of the Visegrad Group, because it is very important for the regional cooperation of our countries", said President Vučić.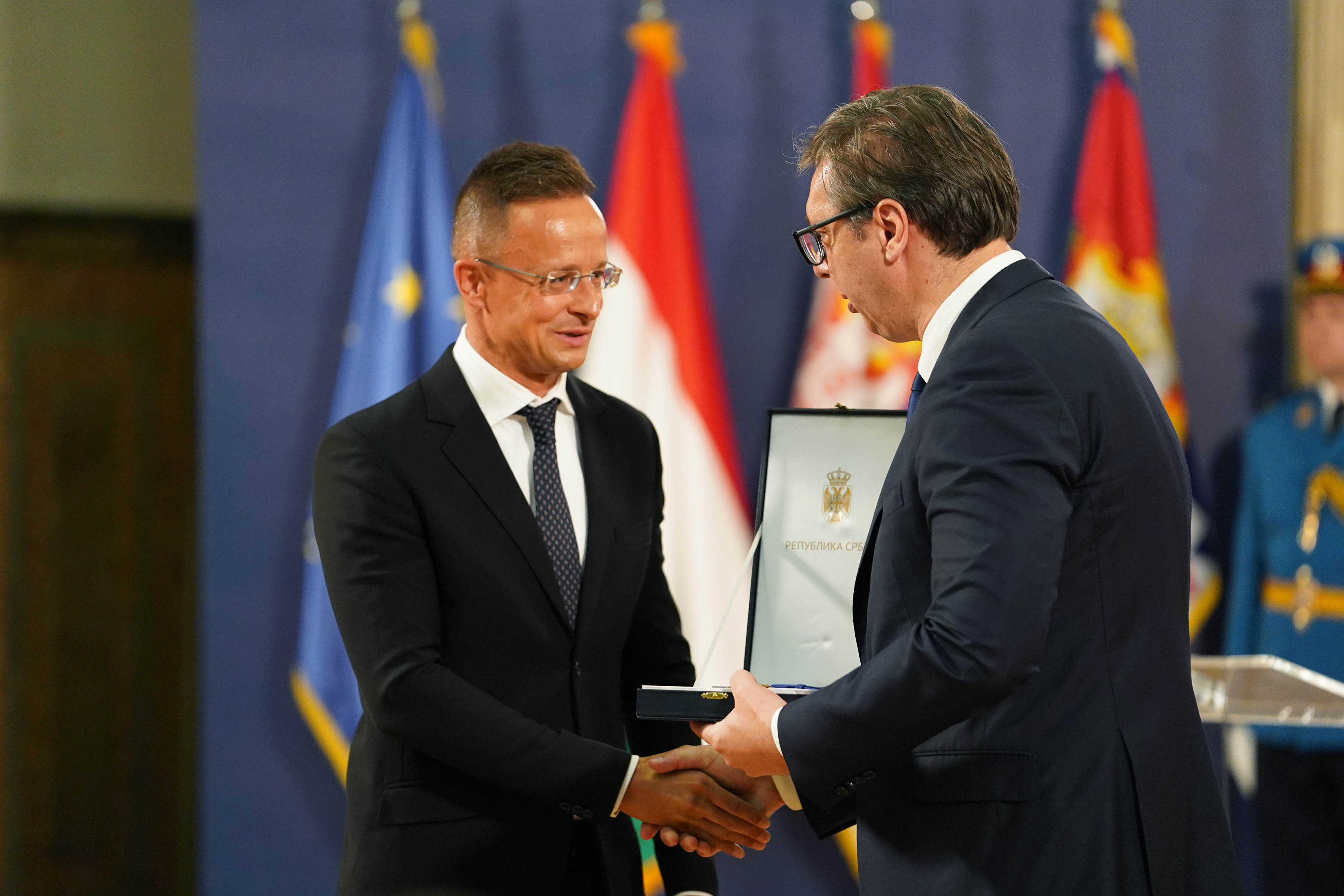 In his address, the Prime Minister of Hungary, Viktor Orbán, said that he unequivocally supports Serbia and its membership in the EU, because the entire Western Balkans is behind Serbia.
"Until Serbia is integrated, the Western Balkans will not be integrated. Serbia is a key country and the European Union should understand that", Prime Minister Orbán emphasized and added that the key to the stability of the region is exactly Serbia.
During the visit of Prime Minister Orbán, President Vučić presented the Order of the Serbian Flag, First Class to the Minister of Foreign Affairs and Trade of Hungary Péter Szijjártó and emphasized that he always clearly stated at every intergovernmental conference between Serbia and the European Union that Serbia must join the EU as soon as possible.
"He fought for the truth and was not ashamed of his friendship with Serbia. And we are infinitely grateful to him for that. But I also thank Viktor Orbán for leading such a policy. I am sure that this Order will be another link in the chain of our friendship", said President Aleksandar Vučić.
Source: www.predsednik.rs
Photo: Dimitrije Goll