Ambassador Todorov Presented His Credentials to President János Áder, 17th December, 2018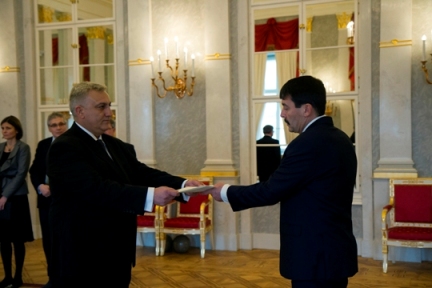 The newly appointed Ambassador of the Republic of Serbia to Hungary, His Excellency Ivan Todorov, presented his credentials to the Hungarian President, His Excellency János Áder in Sándor Palace in Budapest on 17th December 2018. Following the ceremony, Ambassador Ivan Todorov gave a short speech, in which he stressed his full committment to maintain good bilateral relations betwen the Republic of Serbia and Hungary.
INTERNATIONAL PUBLIC COMPETITION FOR THE DESIGN OF A CONCEPTUAL SOLUTION FOR THE ZORAN DJINDJIC MEMORIAL AT THE STUDENT`S SQUARE IN BELGRADE
Belgrade City Administration, Secretariat for Culture, has announced a "Public international two-phase open competition for the design of a conceptual solution for the Zoran Djindjic memorial at the Student`s Square in Belgrade". The text of the competition can be found here
INVITATION TO TENDER
The Embassy of the Republic of Serbia in Hungary announces an invitation to the tender for the provision of real estate sales services for the sale of former Yugoslav diplomatic real estate in New York (2), Tokio, Bonn and Bern.
Additional documents for the participation at the tender: Tenderer Information Sheet, Tender Bond (guarantee), Performance Bond (guarantee).