Today, the President of Serbia, Aleksandar Vučić, presented the Order of the Serbian Flag, First Class to the Hungarian Minister of Foreign Affairs, Péter Szijjártó.
Szijjártó was awarded on the occasion of 28 June, Vidovdan, for special merits in developing and strengthening cooperation and friendly relations between Serbia and Hungary.
Szijjártó thanked for, as he said, an exceptional decoration, which is a great honor for him.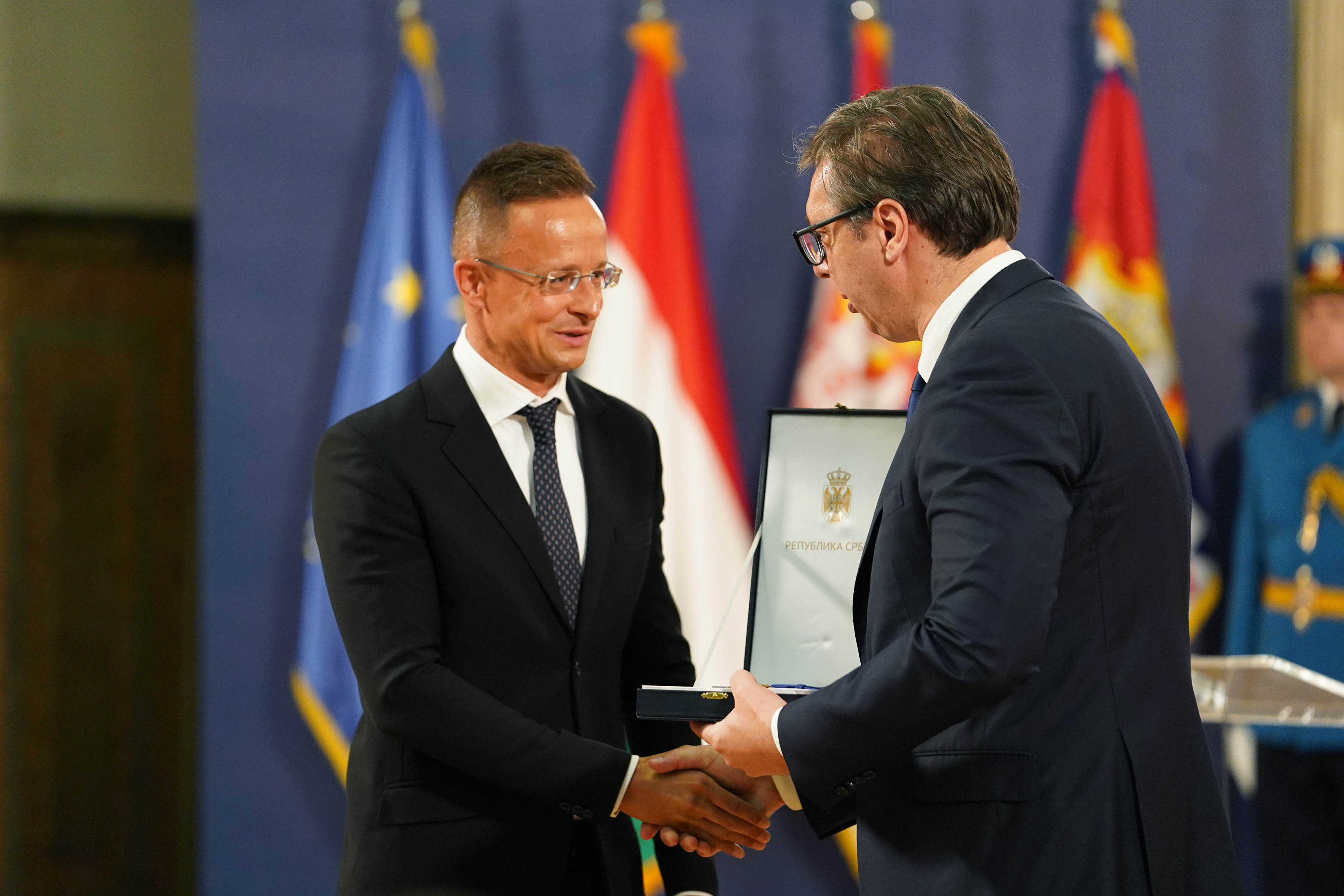 "If we want to be honest, I should share this decoration with at least two Serbian ministers, Nikola Selaković and Jadranka Joksimović, because they are fighting extraordinarily for Serbia's membership in the EU", Szijjártó said. He added that the decoration should belong to everyone who has been helping the Western Balkans in Hungary since 2010 and keeping the focus of Hungarian policy on that region.
"We believe that the EU cannot be complete without the Western Balkans and Serbia, and we know that there is no vacuum in geopolitics and that if the EU misses the integration of this region, someone else will take that place. Since we have already lost Great Britain, we do not want to lose the Western Balkans too", Szijjártó pointed out.
He pointed out that the decoration gives him a new impetus to fight even harder for Serbia's accession to the European Union.
Vučić pointed out that Szijjártó is a sincere friend of Serbia and that it is a great honor for him to personally present him with the decoration today.
"Szijjártó has special merits in the development and strengthening of cooperation and friendly relations between Serbia and Hungary, relations that are excellent throughout the history of the two countries", said Vučić.
He pointed out that Szijjártó always and at every intergovernmental conference between Serbia and the EU clearly and unequivocally pointed out that Serbia must join the EU.
"He fought for the truth, he was not ashamed of his friendship with Serbia and we are grateful to him for that. We are grateful to Hungary and Orbán for such a policy, and we are sure that this decoration will also be just one link in the chain of our friendship and everything we must and can do in the future", Vučić said.
The Prime Minister of Hungary, Viktor Orbán, and the head of Hungarian diplomacy, who arrived on a working visit to Serbia today, were welcomed at the "Nikola Tesla Airport" by the Minister of Foreign Affairs of the Republic of Serbia, Nikola Selaković.
Source: Tanjug