President of the Republic of Serbia Aleksandar Vučić opened this morning a new Balkan Stream gas pipeline in Gospođinci near Žabalj. The pipeline passes through Serbia from the Bulgarian to the Hungarian border.
"This is an important day for our country, let the gas start flowing and let us be even more successful. I wish you a Happy New Year, and I want to thank all our Russian friends who participated with us in constructing this pipeline.
Congratulations on a tremendous job, this is of great importance for the industry, the progress of the Serbian economy, but also of great importance for all the citizens of our country," said the President.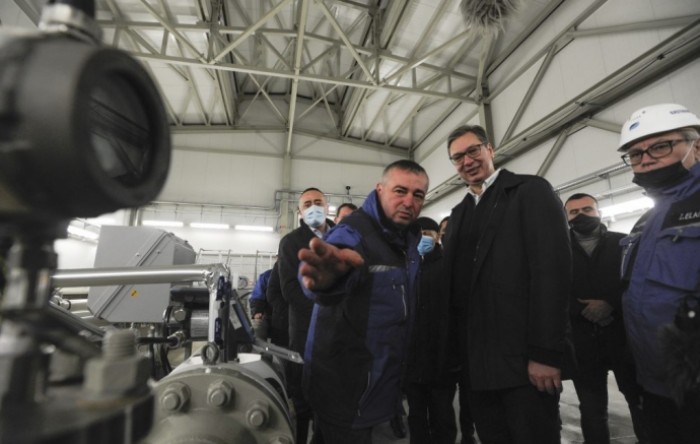 President Vučić pointed out that Serbia provided energy stability and security through the "Balkan Stream" gas pipeline, which is vital for attracting new investors, and added that gas is distributed from that place through the system of primary and secondary gas pipelines.
"This guarantees us a more certain and secure future. When you have gas in each municipality, then you can attract everyone who wants to open factories. There is still work to be done, but this pipeline guarantees us a more certain future. With the support of Russian partners, Serbia has managed to secure supplying its territory with gas. But from here, it will also go to Hungary and Bosnia and Herzegovina," said President Vučić.
He pointed out that we procure gas through that gas pipeline at a price of up to 155 dollars, with much lower transport costs than through another gas pipeline through which we have been supplied so far.
The President noted that additional USD 30 were charged for delivering gas through Ukraine and Hungary to Serbia plus USD 18 for distribution across our territory.
Considering the high price of the gas pipeline construction, the favourable circumstance is that together with our partner, we will charge the transit tax and thus pay those costs, said the President.
President Vučić announced that the gas would be brought to many municipalities where it is not available, which will additionally attract everyone who wants to open factories.
The Ambassador of the Russian Federation, Botsan-Kharchenko, said that this is the best New Year's gift.
"This gas pipeline will provide stability to Serbia and an opportunity for the development of internal infrastructure and energy stability," the Ambassador pointed out.
The Balkan Stream is part of the Turkish Stream gas pipeline, a project of Russia's Gazprom and Turkey's Botash, to provide a stable gas supply to Turkey, southern and southeastern Europe. The pipeline is 930 kilometres long with a capacity of 31.5 billion cubic meters of gas per year. The first arm passes through Turkey, while the second arm runs to Bulgaria, Serbia and Hungary. Serbia and Bulgaria call that part of the gas pipeline the "Balkan Stream".
Belgrade, 1st January 2021