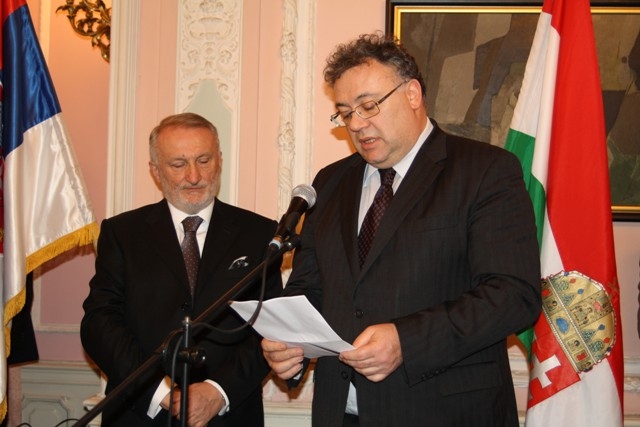 On the occasion of the National Day of the Republic of Serbia and the Day of the Serbian Armed Forces, on February 18, 2015, the Embassy of the Republic of Serbia in Budapest held a traditional ceremonial reception, which was attended by many guests from the Hungarian State institutions, diplomatic corp, military attachés corp, police attachés, representatives of the Serbian Community and the Serbian Orthodox Church in Hungary.
The guests were welcomed by H.E. Mr. Rade Drobac, Ambassador of the Republic of Serbia, who emphasized the symbolism of the National Day and the Day of the Serbian Armed Forces, and pointed out the most important results that Serbia has made in the past year. In terms of bilateral cooperation with Hungary, Ambassador Drobac said that during the last year they were further improved, as evidenced by numerous visits on the highest level of two countries, as well as open and friendly discussions on a variety of issues, including the issue of minorities and the support provided by Hungary to the Republic of Serbia on its path towards the EU. The Ambassador of Serbia pointed out the fact that a certificate of good bilateral relations is a constant growth of trade, as well as the agreement on the largest infrastructural project in the region - the reconstruction of the railway Belgrade-Budapest.
On behalf of the Ministry for Foreign Affairs and Trade of Hungary, the guests were greeted by H. E. Mr. I. Ijgyártó, State Secretary for Cultural and Science Diplomacy, who said that the relations between Hungary and Serbia are stable and strong, as well as that the priority of the Hungarian Government is the promotion of good neighbourly relations. He stressed that the Serbian minority in Hungary and the Hungarian minority in Serbia play an important role and represent a significant foothold in the relations between two countries. Also, he added that the Hungarian priority is strengthening of bilateral relations, which will be the main topic of the next Summit of two governments, which will be held in Budapest, in June this year. Mr. Ijgyártó pointed out that Hungary supports the EU enlargement process, and provides full support to Serbia on its path to join the EU.