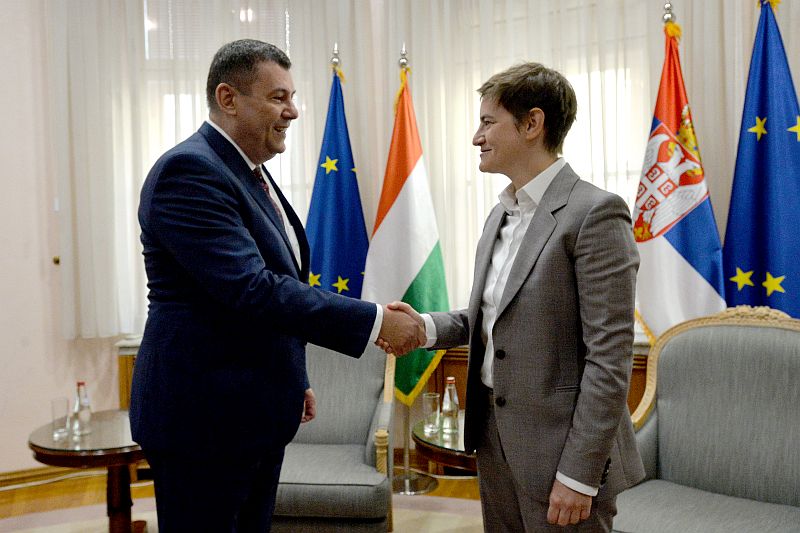 Prime Minister Ana Brnabic underlined today, during the talks with Hungarian Ambassador to Serbia Atilla Pinter, who is ending his mandate in Serbia, that the relations between the two countries have reached the highest point of development in recent history owing to, first and foremost, mutual understanding, trust and dedication to strengthening partnership.
Brnabic expressed gratitude to Pinter on his personal engagement in the development of bilateral relations, recalling that the two states established strategic partnership last year, and that record values of the bilateral trade cooperation were recorded in 2021.
She expressed her gratitude on the strong and continuous support that Hungary provides to Serbia on a daily basis in the process of European integration at the highest political level and for persisting in its stance on the necessity of enlargement of the European Union.
The Prime Minister also pointed out that Serbia extremely appreciates the commitment and support of Hungary to the preservation of peace and stability in Kosovo and Metohija, and, above all, in light of the latest developments of 31 July and the previous days.
Pinter said that Hungary sees Serbia as the most important economic partner in the Western Balkans, with the Hungarian government trying to support investors' investments in the Serbian market.
The Prime Minister expressed her gratitude for the support of Hungary and Prime Minister Viktor Orban when it comes to gas storage for Serbia's needs.
This is of great importance at a time when we are all facing serious global challenges and we are trying to make the citizens of our country feel it as little as possible, she underlined.
Joint projects were also discussed at the meeting, such as cooperation with the government of Hungary in the cleaning of Lake Medjuvrsje, and the importance of continuous holding of joint sessions of the two governments, which resulted in significant improvement of economic cooperation, signing of agreements and memoranda, as well as implementation of joint projects.