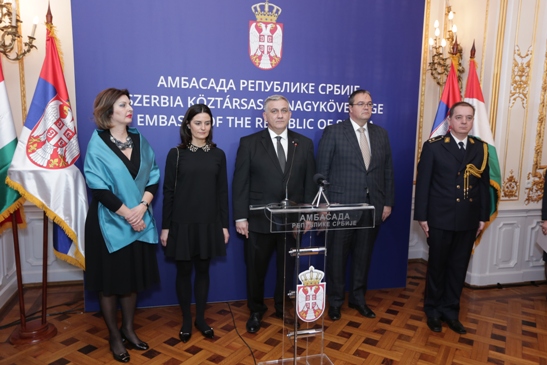 On the 18th of February, in its Embassy in Budapest, the Republic of Serbia in Hungary celebrated the National Day and Armed Forces Day.
The celebration was attended by the representatives of the diplomatic corps, the corps of military attaches, high representatives of the political and cultural life of Hungary, representatives of the Serbian institutions and Serbian Orthodox Church in Hungary, City Hall dignitaries, and many others.
The Ambassador of Serbia, H.E. Ivan Todorov, greeted the National Day to the Serbian community in Hungary, expressed his satisfaction with the actual state of relations between Serbia and Hungary, and thanked all the guests for the time they find to come to the Serbian Embassy to celebrate that special day for Serbia and its citizens.